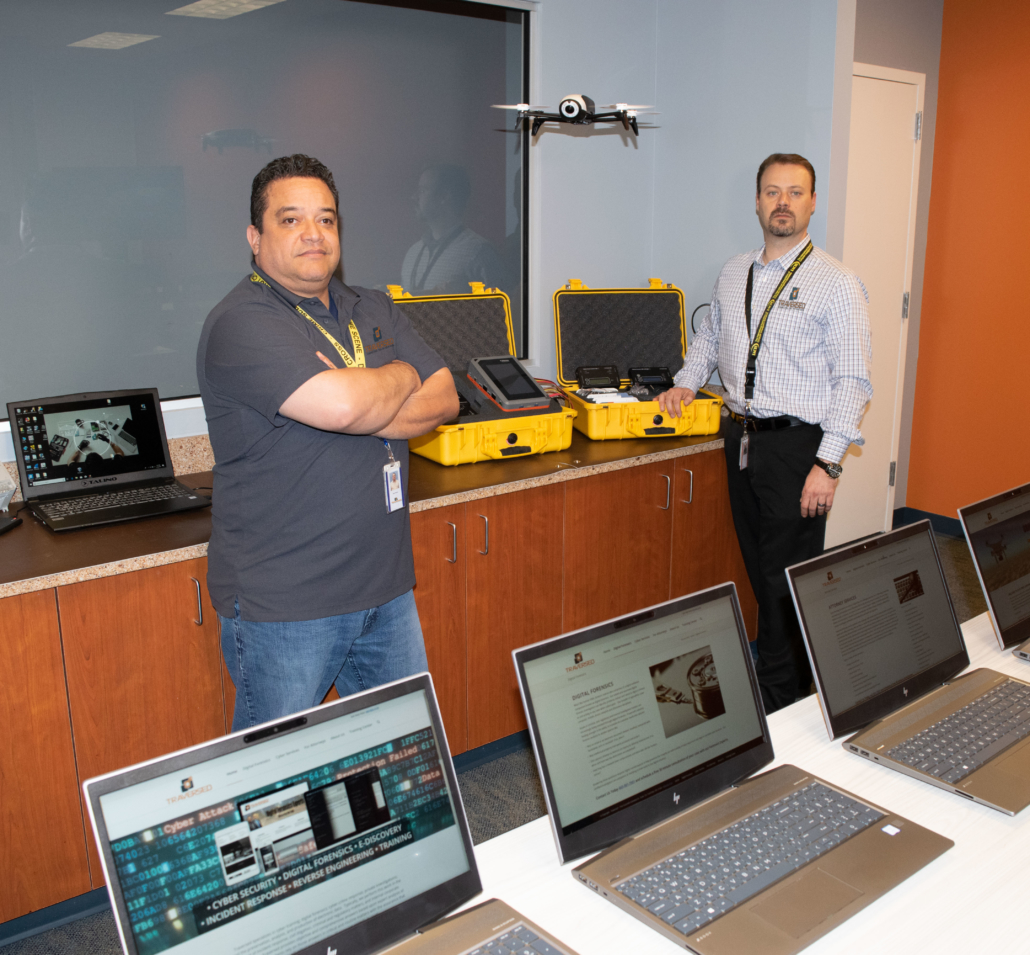 Over the past year, Traversed, LLC has been laying the groundwork for a Cyber Solutions company built on integrity and expertise, providing services in digital forensics, eDiscovery, and cyber training.
At the helm of Traversed are Jose A. Faura, our CTO, and Dave Proulx, our Director of Digital Forensics & Training. Together, they have over 40 years of experience training government, military, law enforcement, and providing legal and judicial services.
 Jose has been performing computer forensics and network security for the Intelligence Community for over two decades. He has investigated high-profile cyber security incidents, including a $2 billion credit card fraud case involving TJ Maxx. Jose also developed a program designed to extract emails and text messages which was pivotal in the recovery of emails tied to the White House.
Dave served 20 years in law enforcement, his last nine in Digital Forensics. Beyond his work on the Internet Crimes Against Children Task Force, he served as a vetted instructor for the US State Department's ATA (Anti-Terrorism Assistance) Cyber Task Force, teaching digital forensics and online investigation to law enforcement throughout the nation, as well as abroad, in Europe, South America, and the Caribbean. An Apple Forensics expert, Dave led the forensic investigation in the Mall in Columbia shooting, and several high-profile crimes against children cases.  
As the demand for cyber and digital forensic services increases, Traversed believes in a professional obligation to share knowledge, experience, and expertise with the next generation of professionals. In addition to offering commercial services, we have built a state-of-the-art training facility, Traversed's Cyber Learning Center at our Columbia, Maryland headquarters, to further this endeavor. The Cyber Learning Center will host a range of courses, from foundational classes for those getting started in their digital forensic career to advanced courses for those with previous experience in the field.
Furthermore, we are excited to announce our partnership with Spyder Forensics, a leader in digital forensic training. Courses offered in conjunction with Spyder Forensics will equip students with the skills not only to perform computer forensics, but also to identify and extract recoverable data from Unmanned Aircraft Systems (UAS), or Drones. Additionally, Traversed will host Security Onion, SCADA/ICS (Industrial Control Systems) and malware analysis training. 
For additional information on commercial services or upcoming courses offered, call us at (443) 832-4133 or visit www.traversed.com
https://traversed.com/wp-content/uploads/2019/07/traversed-logo-340x156-emboss.png
0
0
Jose Faura
https://traversed.com/wp-content/uploads/2019/07/traversed-logo-340x156-emboss.png
Jose Faura
2019-04-15 19:33:18
2019-09-18 18:02:06
Introducing the Traversed Team...